January 12, 2017
A Decade of iPhone
10 years of change and progress
This year marks the tenth anniversary of the introduction of the iPhone. The iPhone is undeniably one of the most influential consumer electronics devices of recent times. From the first iPhone in 2007, which marked a new era for smartphones and mobile computing, to the latest model the iPhone 7 and 7 Plus. It has pushed the category forward and the industry.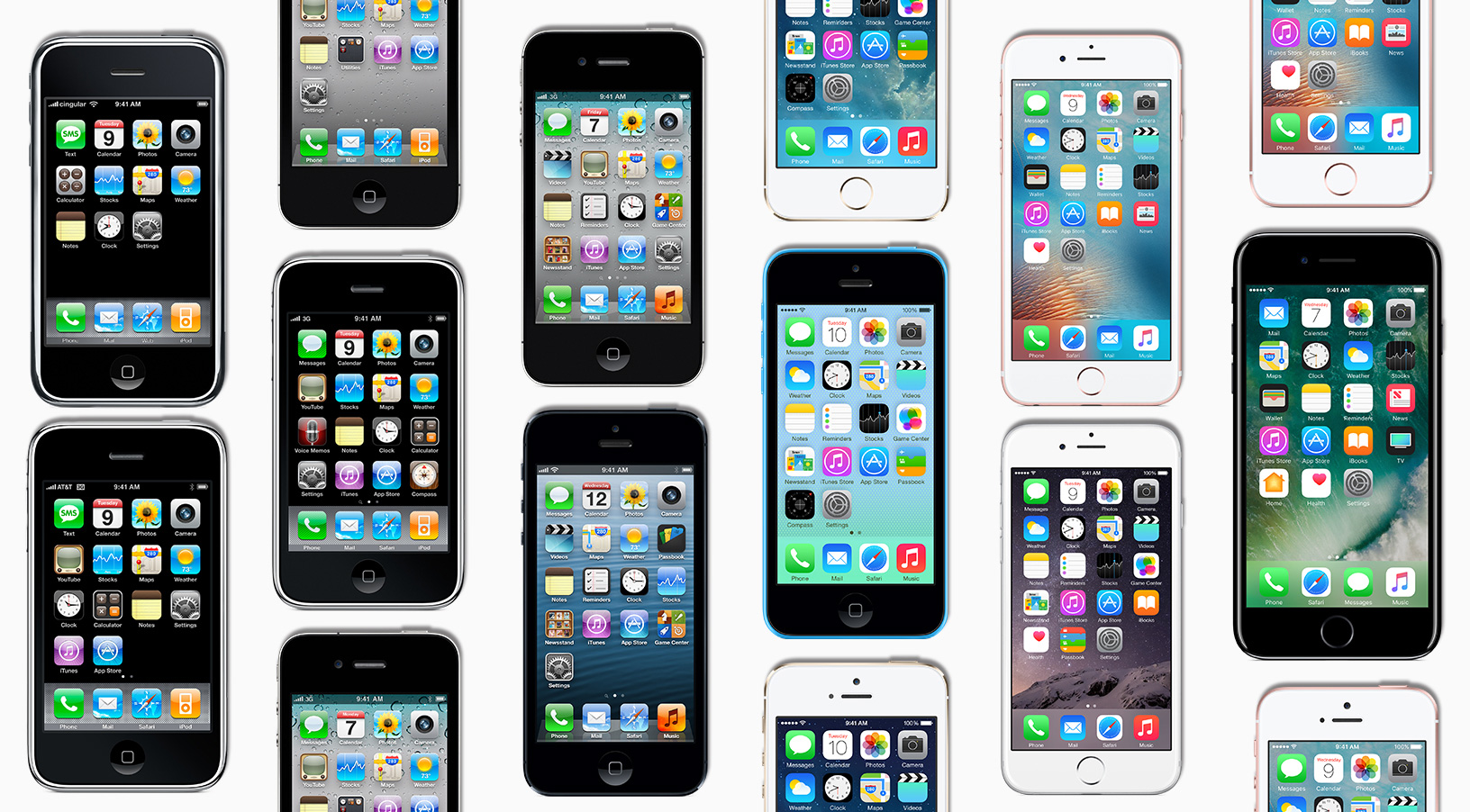 Image from Apple News Room
Present Day
On the 7th September 2016, Apple introduced the iPhone 7 at the Apple September Event in San Francisco.
The iPhone 7 and 7 Plus which features a 4.7" screen and 5.5" wide colour screen, a pressure sensitive home button that simulated a click using the Taptic Engine, Stereo Speakers, the A10 Processor a Quad-Core Processor that has two high performance and two low power cores and 2GB or 3GB RAM respectively.
One of the big changes that came with the iPhone 7 was the dual lens camera on Plus model that introduced a new feature called Portrait Mode, that uses both lens in tandem with the A10 Processor to produce a depth of field effect photo.
The iPhone 7 and 7 Plus comes in Silver, Gold , Rose Gold, Black and a new finish called Jet Black that is a gloss almost glass like finish. The 7 also introduced a new 256GB storage tier along with the 32GB, and 128GB options.
Lets rewind to where it all began...
"Hello"
Back in 2007 on January 9th Steve Jobs announced the first iPhone at Macworld 2007 in San Francisco. Steve Jobs introduced it with a an introduction that would go down in history.
today, we're introducing three revolutionary products.... The first one: is a widescreen iPod with touch controls. The second: is a revolutionary mobile phone. And the third is a breakthrough Internet communications device.
So, three things: a widescreen iPod with touch controls; a revolutionary mobile phone; and a breakthrough Internet communications device. An iPod, a phone, and an Internet communicator. An iPod, a phone ... are you getting it? These are not three separate devices, this is one device, and we are calling it iPhone.
Since then the smartphone industry and consumer electronics market was never the same.
The first iPhone rocked a 3.5" Multi Touch Display that had a resolution at 320x480 and 163ppi, a quad-band 2G EDGE cellular radio, 802.11b/g Wi-Fi, Bluetooth 2.0 EDR, and a 2MP back camera. The iPhone had a glass screen, a Bead Blasted anodised aluminium casing with a black plastic antenna window on the bottom and only had a few buttons (Home Button, Volume Rockers, Sleep/Wake button and a Mute Switch).
It featured a few special sensors, a Proximity Sensor that allowed the display to turn off when raised to your face when on a call, an Ambient Light Sensor to automatically change the brightness of the screen to match its environment and an Accelerometer that rotates the screen to match its orientation when held.
Image from Apple News Room
Powering it all was a single core ARM-based 1176JZ(F)-S processor and PowerVR MBX Lite 3D graphics chip fabricated by Samsung and 128MB of RAM. It had a 1400 mAh Li-Ion battery. It came in two different flash-based storage options at launch a 4GB or 8GB model, 16GB version was added at a later date.
The original iPhone came with iPhone OS, which later became known as iOS, which was marketed as OS X at the time. Some of the key features iPhone OS included was Visual Voicemail, support for multi-touch gestures, HTML email, an iPod app that played music and videos, Safari web browser, threaded text messaging, and YouTube. Features like MMS, support for third party apps via the App Store and cut, copy and paste were added in future releases of iPhone OS (later to be called iOS).
Media and Data (Music, AudioBooks, Podcasts, Movies, TV Shows, Music Videos, Contacts, Calendars, Photos, Notes, Bookmarks and email accounts) could be synced to the iPhone via iTunes using a 30-Pin connector like the iPod.
The Original iPhone was priced at $499 for the 4GB and $599 for the 8GB model on-contract. A 16GB option was added to the line up on February 5, 2008. As an exclusive to AT&T and was only sold in the US in June 2007, then Europe in late 2007, and Asia in 2008. Using the Internet Archive's Wayback Machine we can see the orignal product page for the iPhone 2G.
The 4GB model was discontinued in September 2007 and the 8/16GB model in June 2008. The iPhone 3G was released in June 2008 and the rest as they say was history.
The Future
The iPhone has come a long way since its early beginnings in 2007. With this years iPhone, iPhone 8 to come out in September later this year. It is rumoured that this years iPhone might be bring one of the biggest changes to the iPhone.
What the next decade of iPhone might hold is anyone's guess, all I can say its been a ride and its going to be interesting where it goes next.
Tagged with: